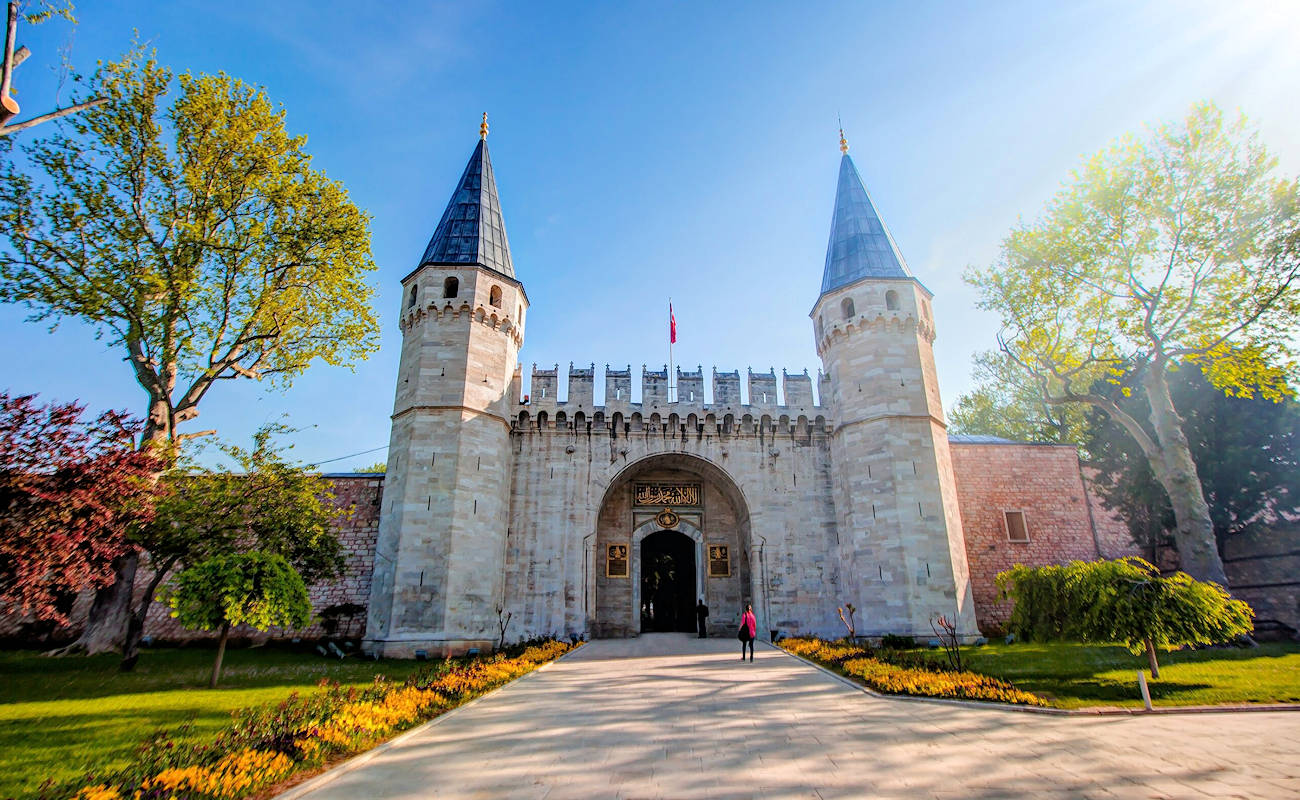 Byzantine and Ottoman Relics
Byzantine and Ottoman Relics. Hagia Sophia Grand Mosque, The Grand Covered Bazaar, Hagia Irene Church, Blue Mosque and Topkapi Palace
HIPPODROME was the focal point for sporting events, featuring four unique structures: the GERMAN FOUNTAIN OF WILHELM II, Egyptian Obelisk, SERPENTINE COLUMN and the WALLED OBELISK.
The BLUE MOSQUE, famous for its stunning blue Iznik tiles, was another prominent landmark in Istanbul.
HAGIA SOPHIA GRAND MOSQUE
HHAGIA SOPHIA GRAND MOSQUE, constructed by Constantine the Great in the 4th century and later reconstructed by Justinian in the 6th century, is widely considered one of the greatest architectural wonders of all time.
THE GRAND COVERED BAZAAR
THE GRAND COVERED BAZAAR is a vast labyrinth of streets and passages, home to over 4,000 shops, each specializing in a particular trade. Visitors can peruse the goldsmiths' street, carpet sellers, and Turkish arts and crafts, including hand-painted ceramic plates, hand-honed copperware, brassware, trays, water ewers, onyx ware, and meerschaum pipes.
HAGIA IRENE CHURCH
For lunch, guests can enjoy a meal (drinks not included) before exploring the nearby HAGIA IRENE, which dates back to the 4th century, just like its famous neighbour, the HAGIA SOPHIA GRAND MOSQUE. The name of the church, HAGIA IRENE, means ''Godly'' or ''Holy Wisdom'' in Greek. After the conquest of Istanbul, the church was assimilated into the grounds of TOPKAPI PALACE and like many other churches, was transformed into a mosque. Notably, no significant modifications were made to the structure of the building.
TOPKAPI PALACE
TOPKAPI PALACE was the principal palace of the Ottoman Empire between the 15th and 19th centuries. It has a remarkable collection of valuable gems, jewellery, thrones of sultans, costumes worn by sultans and their families, miniatures and the Holy Mantle, as well as the CHAMBER OF SACRED RELICS.
Please note that the Harem is not included in the visit programme and requires an extra entrance fee.
| | |
| --- | --- |
| Excursion Price: | 90 EURO |
| Excursion Type: | Istanbul Full Day Tour |
| | Istanbul Walking Tour |
| Excursion Available in: | English and Spanish |
| Tour Days (in Spanish): | Monday and Saturday |
| Tour Days (in English): | Monday, Wednesday, Thursday, Saturday and Sunday |
Also visioned during the tours
OBELISK OF THEODOSIUS
SERPENTINE COLUMN
GERMAN FOUNTAIN OF WILHELM II
WALLED OBELISK
Important Notice
GRAND BAZAAR closed on Sunday / Replaced with ARASTA BAZAAR
HAGIA SOPHIA GRAND MOSQUE and BLUE MOSQUE closed on Friday due to Prayer TOPKAPI PALACE and HAGIA IRENE Church on Tuesday
This tour is not operated on Tuesday & Friday
Information is given from outside when the line is excess in HAGIA SOPHIA GRAND MOSQUE and BLUE MOSQUE