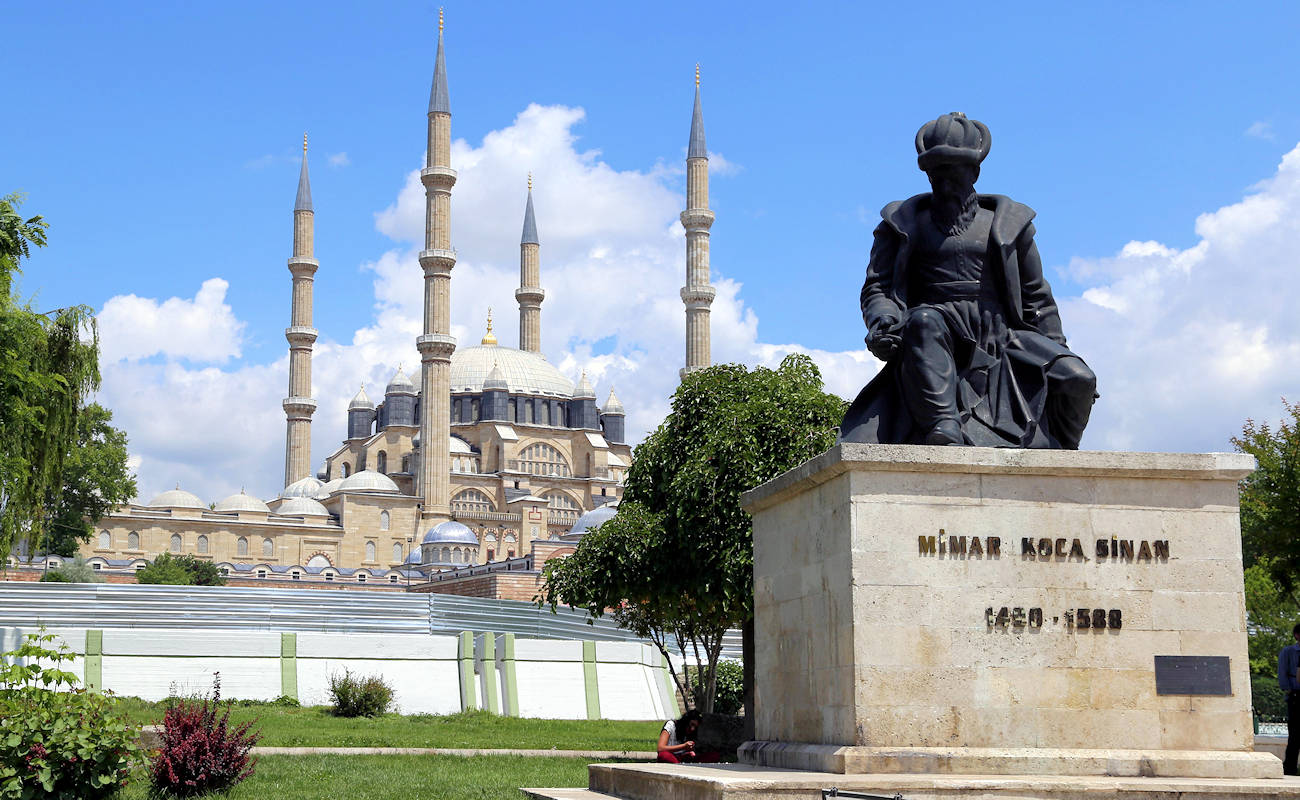 Great Architect Sinan
Great Architect Sinan is a renowned Turkish architect who served as the master architect to four sultans.
Known as Mimar Koca Sinan or the "Great Architect Sinan", he was born in Anatolia, Turkey in 1489. His work contributed to one of the most splendid periods of the Ottoman State. Sinan served under Selim II. This exposure to Iraq, Corfu, Baghdad and Belgrad's architecture, combined with the Byzantine legacy of Istanbul, shaped the future of Ottoman architecture. Sinan, who served as the head architect of the palace and oversaw construction projects in the Ottoman Empire for almost half a century, collaborated with a team of architects and master builders.
According to multiple sources, Sinan designed roughly 360 structures, encompassing 84 mosques, 51 small mosques ("mescit"), 57 theological schools ("medrese"), and 7 schools for reciting the Quran ("darülkurra"). In total, Sinan constructed 22 mausoleums ("türbe"), 17 Alm Houses ("imaret"), 3 hospitals ("darüşşifa"), 7 aqueducts and arches, 48 inns ("Caravansary"), 35 palaces and mansions, 8 vaults and 46 baths. Of these diverse structures, his mosques have had the most influence and embody the quintessential image of Turkish Ottoman architecture. He frequently incorporated schools, baths, guesthouses and hospitals in the design of his mosques and surrounding complex.
Sinan incorporated established architectural principles into his designs and created truly distinctive forms. He is commonly linked with experimentation in structural design and took the domed shape to its ultimate expression. However, in contrast to his European counterpart Palladio, he did not establish a distinct architectural style with his name. It is unnecessary as his work is completely associated with the structural and decorative simplicity of the era.
Great Architect Sinan focused his work as an architect on three mosques: Shezade, Suleymaniye, and Selimiye. He created Shezade Mosque as an apprentice, Suleymaniye Mosque as a trainee master, and Selimiye Mosque as a master craftsman. The grand Şehzade Mosque was the first of many that Sinan designed. Mihriman Sultan Mosque, also known as the Uskudar Quay Mosque, was completed in the same year and boasts an original design, with its main dome being supported by three half domes. At the age of 70, Sinan had finished building the Suleymaniye Mosque and Complex, located on a hill in Istanbul overlooking the Golden Horn.
This structure, constructed in honour of Suleyman the Magnificent, is a prominent monument of that era. The dome of the Selimiye Mosque, which Sinan built at the age of 80, boasts a diameter of over 31 meters and serves as an impressive demonstration of his architectural prowess. The dome of the Selimiye Mosque, which Sinan built at the age of 80, boasts a diameter of over 31 meters and serves as an impressive demonstration of his architectural prowess. Great Architect Sinan has achieved the pinnacle of his artistic career through the design, architecture, tile decorations, and stonework displayed at Selimiye.
Sinan's unique projects in architecture also include various mausoleums. The mausoleum of Şehzade Mehmed gains attention due to its exterior decorations and sliced dome. Rustem Paşa mausoleum is a classical style building that attracts a lot of attention. Suleyman the Magnificent's mausoleum is an excellent example of his experimentation. Its octagonal body and flat dome make it a unique creation. Another impressive example of Turkish mausoleum architecture is Selim II Mausoleum, which has a square plan. In contrast, Sinan's own mausoleum situated in the north-east part of the Suleymaniye complex is a simple structure.
Sinan was skilled in merging art with functionalism in the bridges he constructed. The largest structure within this group of works is the Buyukcekmece Bridge, which is approximately 635 metres long. Other notable examples include the Ailivri Bridge, the Luleburgaz (Sokullu Mehmet Pasha) Bridge over the Lüleburgaz River, the Sinanlı Bridge over the Ergene River, and the Drina Bridge.
Sinan was responsible for maintaining and improving Istanbul's water supply system along with constructing arched aqueducts at various sites throughout the city. The Mağlova Arch over Alibey River is a remarkable structure, measuring 257 metres in length and 35 metres in height, featuring two layers of arches. It is widely regarded as one of the finest examples of its kind. The creator of this grand monument not only produced exceptional works such as this, but also made additions to significant buildings in the capital, with particular emphasis on Topkapi and Haghia Sophia.
Crucially, Sinan taught a group of architects, among them his apprentices Davut Aga, Dalgic Ahmet and Mehmet Aga. They continued his innovative structural practices, resulting in renowned post-classical works like the New Mosque, the mausoleum of Murad II and the Sultan Ahmet Mosque.
Great Architect Sinan passed away in Istanbul, Turkey in 1588.