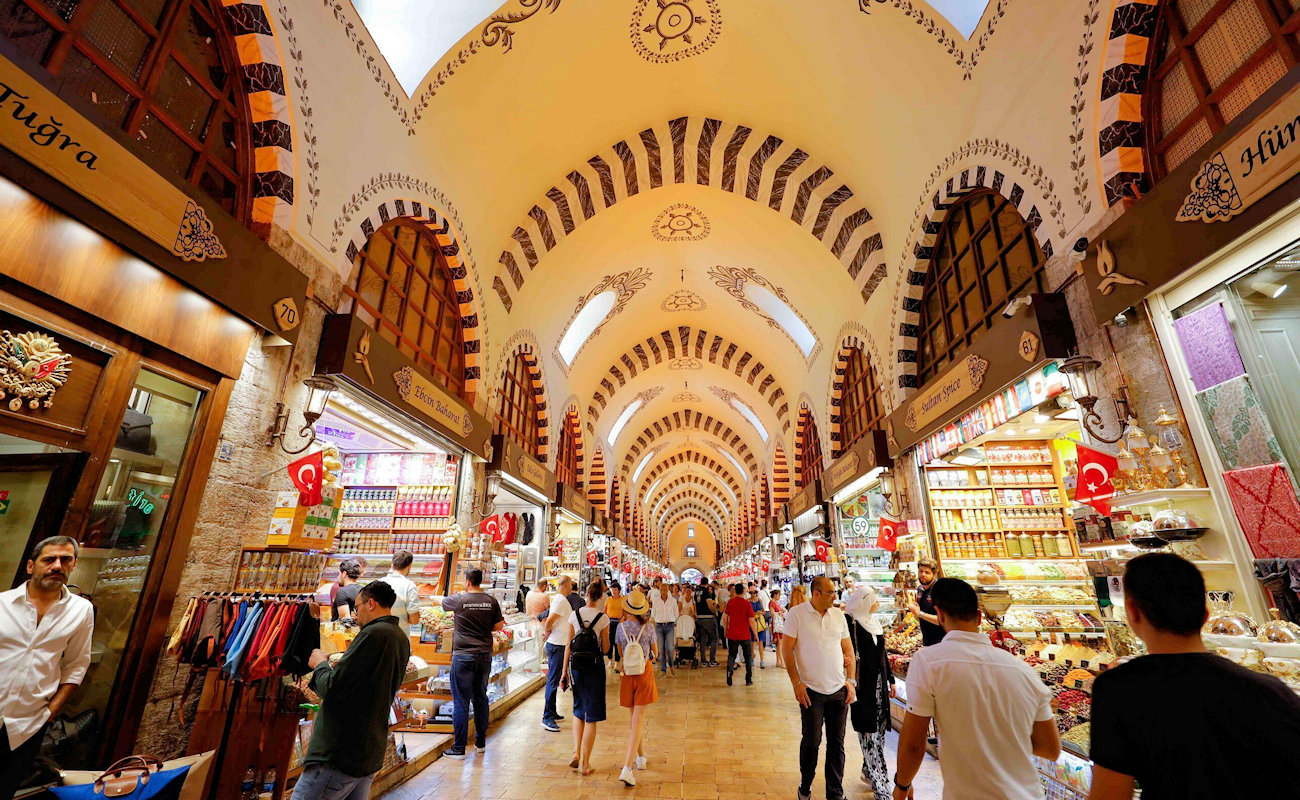 Spice Bazaar
The Spice Bazaar, also known as Mısır Çarşısı in Turkish, which translates to "Egyptian Bazaar", is situated in Istanbul, Turkey. It is one of the biggest bazaars in the city and is located in the Eminönü quarter of the Fatih district. It is renowned as the second most prominent covered shopping complex in the city after the Grand Bazaar.
History
There is evidence indicating that the bazaar was initially named "New Bazaar" before being later renamed the "Egyptian Bazaar" (Turkish: Mısır Çarşısı) due to its construction being funded by the Ottoman eyalet of Egypt in 1660. The Turkish word mısır holds a dual meaning of "Egypt" and "maize", which is why the name may occasionally be incorrectly translated as "Corn Bazaar". The bazaar has been the hub for spice trade in Istanbul since its inception, though recently, it has seen a gradual shift from spice vendors to diverse shops. The building
is a portion of the külliye (complex) of the New Mosque. The earnings procured from the leased shops in the bazaar are utilized for supporting the mosque's maintenance.
The edifice was planned by Koca Kasım Ağa, the court architect, but was constructed by Mustafa Ağa, another court architect who supervised the final months of work in 1660. This was after the Great Fire of 1660, which began on 24 July and lasted for over two days, destroying several neighbourhoods in Istanbul, as documented by Abdi Pasha's chronicles. After the fire, a significant renovation and rehabilitation initiative was initiated in the city.
This effort involved continuing the construction of the New Mosque in 1660, which was previously halted between 1603 and 1660. Technical term abbreviations will be explained when used. Biased, figurative, or emotional language should be avoided at all times. The text should also be grammatically flawless, including spelling and punctuation. Consistency in formatting, footnotes, and citations is preferred.
The language should be clear, objective, and value-neutral. The text should aim for a logical structure with causal connections between sentences and paragraphs. Bias should be avoided by using hedging when trying to make a position on a subject clear. The use of subject-specific vocabulary is preferable to convey meaning precisely. Contractions, colloquial words, informal expressions, and unnecessary jargon should be avoided, and formal language should be maintained throughout.
The construction of the New Mosque's külliye was finished between 1660 and 1665. In that same year, the Spice Bazaar was also commissioned by Sultana Turhan Hatice, the Valide Sultan of Sultan Mehmed IV. She had commissioned all buildings within the New Mosque külliye, including the Spice Bazaar. This information is drawn from sources and.
Egyptian Bazaar today
Spice Bazaar has a total of 85 shops selling spices, Turkish delight and other sweets, jewellery, souvenirs, and dried fruits and nuts.