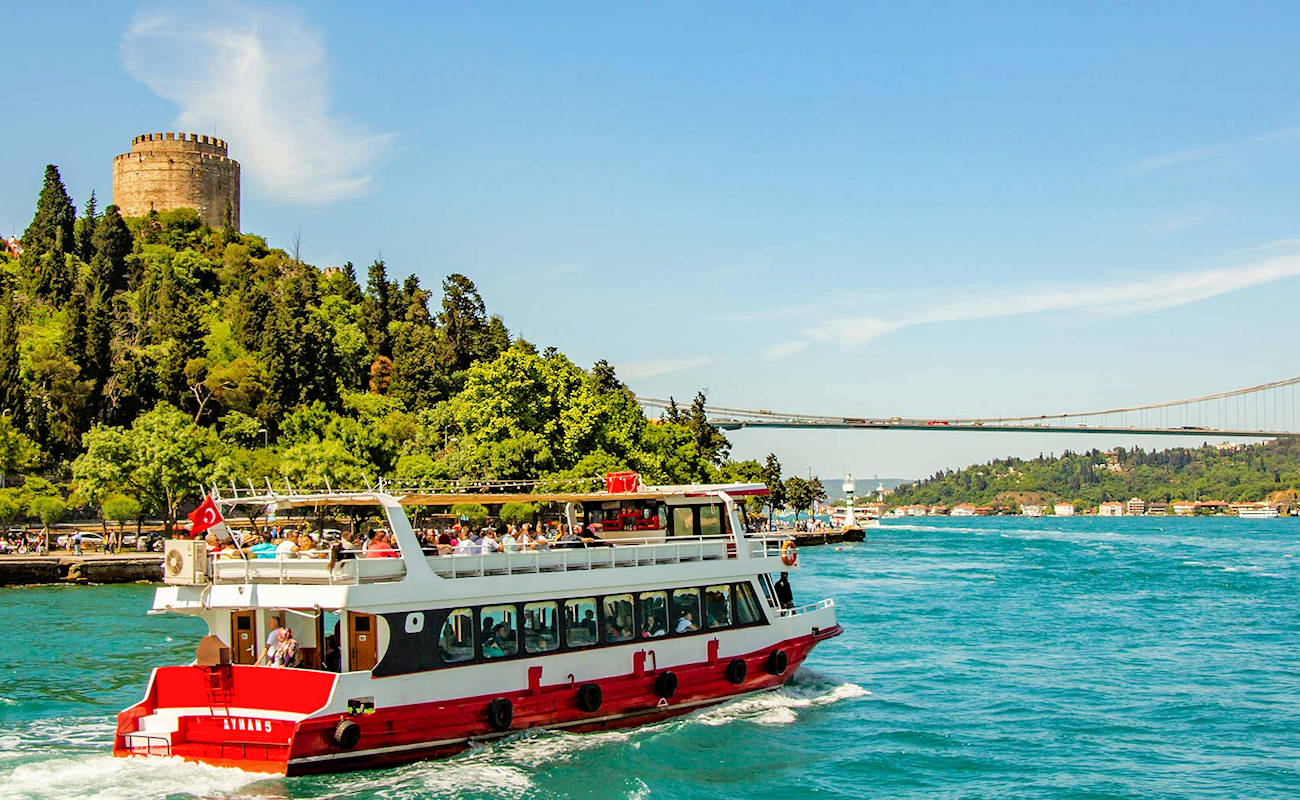 Bosphorus on Boat
Bosphorus on Boat. CITY WALLS, DRIVE TO GOLDEN HORN BY BUS, SPICE BAZAAR (EGYPTIAN BAZAAR) and BOAT TRIP ON THE BOSPHORUS
CITY WALLS
The walls were first breached by the Fourth Crusade in 1204 and again in 1453 by the cannons and troops of Fatih Sultan Mehmed the Conqueror.
DRIVE TO GOLDEN HORN BY BUS
The Golden Horn, an 8 km long inlet that separates the European shore, has played a significant role in Istanbul's development. Being a naturally secure harbor, it is widest at the entrance from the Bosphorus. At its far end, two streams drain into it.
SPICE BAZAAR (EGYPTIAN BAZAAR)
The air in SPICE BAZAAR is infused with an alluring blend of cinnamon, caraway, saffron, mint, thyme, and numerous other herbs and spices.
BOAT TRIP ON THE BOSPHORUS
This stunning cruise travels along the Bosphorus, between Europe and Asia. The journey takes passengers past the Dolmabahce and Beylerbeyi Palaces, charming wooden villas and mansions, and culminates at the majestic Rumeli Fortress.
Istanbul had endured numerous sieges prior to its conquest by Fatih Sultan Mehmed the Conqueror in 1453. Thanks to the Byzantine city walls, it was able to successfully resist these invasions. This visit to Rumeli Fortress only includes views from the sea without an interior tour.
| | |
| --- | --- |
| Excursion Price: | 35 EURO |
| Excursion Type: | Istanbul Half Day Morning Tour |
| | Istanbul Bus and Boat Tour |
| Excursion Available in: | English and Spanish |
| Tour Days (in Spanish): | Tuesday and Friday |
| Tour Days (in English): | Everyday |